Gum architecture doesn't stand the test of time, but that's what Jérémy Laffon likes about it.
Chewing gum architecture doesn't stand the test of time, but that's what Jérémy Laffon likes about this unusual building material.
The French artist has spent the last few years getting familiar with the compressive strength of sticks of gum. The sight of one of his precarious, upright cityscapes (held together at the joints with glue) is only the beginning of the show.
Over the next few weeks, Laffon's house-of-cards-style structures soften, weaken, and eventually collapse in ways that are impossible to predict. Each gallery visitor sees only one of the construction's many forms.
"What interested me was the structural relationship of this unstable material," he writes in an email. "If just one stick of chewing gum begins to move, it initiates the process of collapse. Each movement producing another, producing another, etc."
"The structure became autonomous and evolved on its own. It no longer belongs to the artist."
Below, the gradual disintegration of "Chlorophénylalaninoplastomecanostressrhéologoductilviridis-cacosmographigum," a 2011 project that Laffon built at the Galerie Isabelle Gounod:
This represents a considerable structural evolution from Laffon's earliest work with chewing gum, a parquet floor patterned with different-colored sticks. At first, he bought gum from the supermarket, until Cadbury France eventually began supplying his construction materials.
A project like "Le Trésor de Mexico," a piece Laffon built last year for the exhibition Jusqu'à Epuisement in Marseilles, contains several thousand pieces of chewing gum, and took, Laffon says, "many weeks" to build: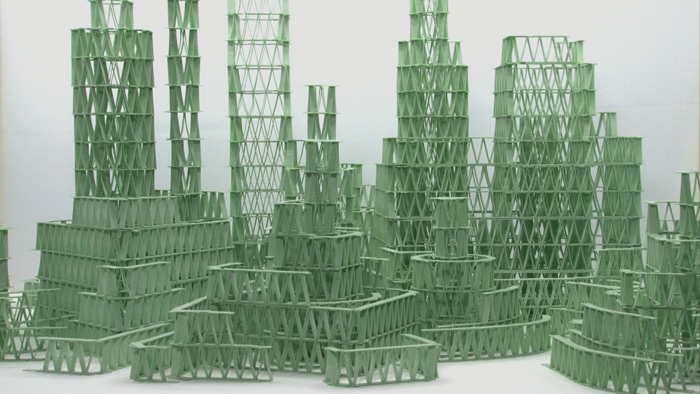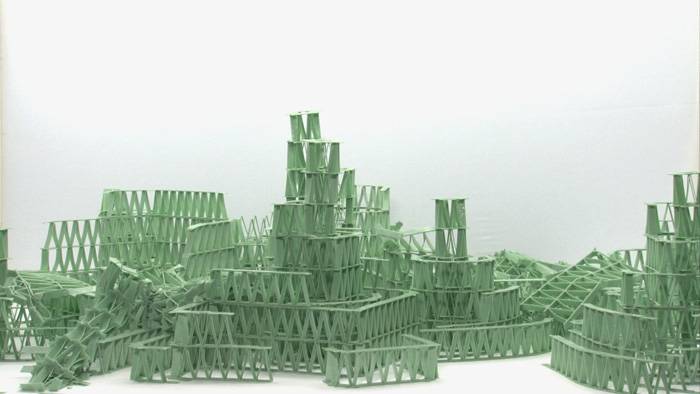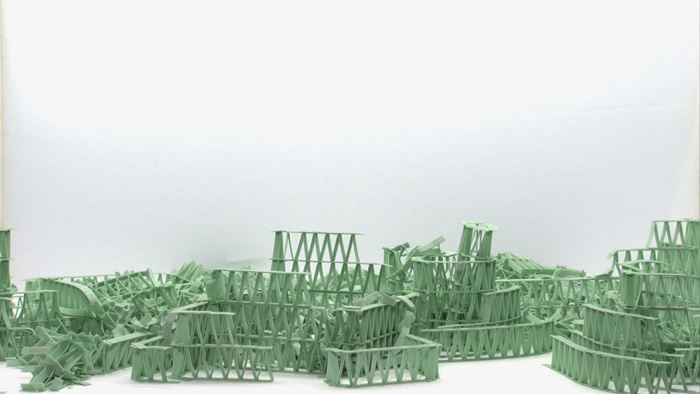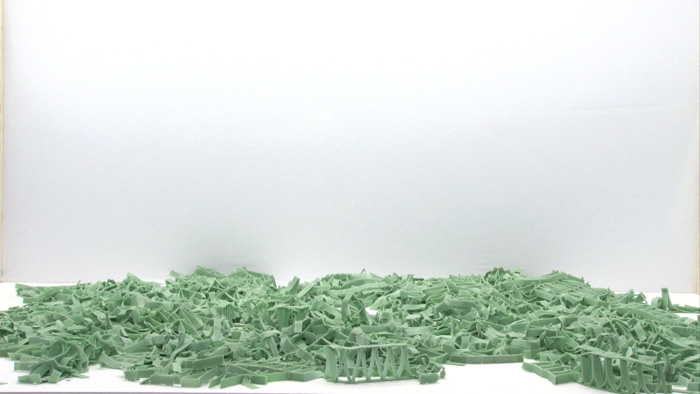 These days, Laffon is trying to construct more vertical structures, inspired by the children's block game Kapla, including a "globe" that weighs over 15 pounds.
Top image: "Sans Titre," Jérémy Laffon, 2011-2012.
All images courtesy of Jérémy Laffon.