This has actually been proven by science.
Anybody who's observed squirrels knows they're manic little buggers: hopping from place to place, chattering excitedly, in general acting like they just robbed the Pixy-Stix factory and are tweaking off the spoils of their labor.
But there's another half of a squirrel's life that's the polar opposite: a secret time, full of endless hours of deep, soul-satisfying slumber. During this restful period, you could take a squirrel and Hail-Mary pass it across the room, pretend to make it do an Irish jig, or even juggle it with other squirrels—and that last fact has been proven by god-honest science.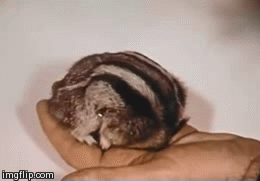 A couple qualifiers: First, a juggleable squirrel isn't technically sleeping, but hibernating. During this state of suspended animation, the animal lowers its body temperature by as much as 30 degrees Celsius (meaning it can go below freezing). A hibernating squirrel isn't doing nothing, though. Its metabolism burns through so much body fat that the critter might drop 50 percent of its weight.  
Second, the squirrels that go profoundly inactive are not the gray-toned guys living in the trees of the Eastern U.S. Tree squirrels don't hibernate; they spend their winters scrounging for nuts they stored earlier. Rather, the direly dormant squirrels hail from several ground-based species living in the Central and Western U.S. You'll find them in cities from Denver to Las Vegas to Dallas to Berkeley, where they often live in burrows on golf courses and cemeteries when they're not exploring the world, like this fellow:
Squirrels in northern regions can hibernate for more than six months, with brief moments of arousal when they get up for a bit before dropping right back into a virtual coma. Nobody knows for sure why they hibernate, evolutionarily speaking. Perhaps their bodies are waiting out periods of extreme cold, goes one theory, whereas another has it they're conserving water (much of their hydration comes from eating succulent plants, which don't grow during winter). But what is known is that a hibernating squirrel's physiology undergoes extraordinary transformations, changes that few know better than Hilary Srere, a former squirrel scientist who discovered one of the most astounding of them.
"The squirrels, they are really freaking amazing," Srere says from her Bay Area base. "Their heartbeats literally are one to two beats a minute, and it is completely arrhythmic. If humans did that, they'd be dead."
While performing research in the '90s, Srere discovered that squirrels were able to survive this period of super-lethargy by actually reprogramming their genes. A hibernating squirrel makes more of a certain protein, which in turn prevents the blood from clotting and destroying the animal. The molecular alteration was so clear she could take a DNA sample from a squirrel she'd never met, run a test, and determine whether it was in hibernation or not.
Squirrels engaged in this intense biological process are out of consciousness as hard as if KO'd by Mike Tyson. If a predator dug one out of its hibernaculum and started gnawing on it, the squirrel would be doomed without realization. That's why marmots—a genus of fat, whistling ground squirrels—prefer to hibernate in groups. "They are pretty mean," says Srere. "They put the weakest animals out at the edge of the group. They are the ones that won't survive." (Marmots are kind of jerks that way.)
And if a researcher was inclined to, say, pick up a few squirrels and toss them gently around like beanbags, the sad fact is they'd never remember their aerial adventures. So Srere discovered during an exercise she conducted for curious relatives, of course at a safe distance above the ground.
"I did juggle three of them for my niece and nephew when they were younger, because they are just little fluffy balls!" she says. "They don't wake up, they just don't."
(Don't try this at home, kids. These test subjects were treated with disease-killing drugs, but a startling number of wild squirrels carry the plague.)
You won't find examples of squirrel juggling in any scholarly literature (peer review can be so boring that way), and footage of scientists juggling squirrels is infuriatingly absent from YouTube. But I did manage to rustle up this old documentary. Skip to 9:15 to see how totally unresponsive the squirrels become, and farther for their adorable waking-up routine complete with the world's tiniest yawns: