Thundersnow, blizzards, and raging winds... ah, springtime!
This afternoon, it was thundersnowing in San Francisco, blizzarding in the Dakotas, and gusting furiously off the coast of New England. For this audacious weather, you can thank a trio of major storm systems aligned with military precision over North America.
This triple threat – which the National Weather Service calls "highly unusual" – illustrates the kind of violent systems that herald the arrival of spring, the beginning of the so-called tornado season. And right on schedule, today there was indeed a confirmed spotting of a hail-encircled tornado thrashing through west-central Minnesota. At last check there were no reports of major damage or injuries, lucky for all.
You can get a space-alien-eye's view of this procession of cyclones thanks the above composite satellite imagery, put out by the Space Science and Engineering Center at the University of Wisconsin-Madison. (A high-res version is here.) It was tweeted out by Darren Maier, a meteorologist in Eau Claire, Wisconsin, who writes: "west coast, central, east coast.. 3 well developed cyclones encompassing the US this pm!"
This is the animated version: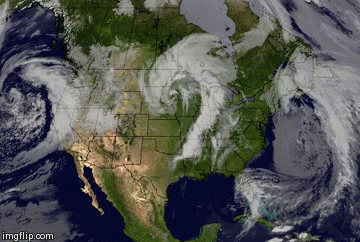 And a little bit more about that thundersnow in San Francisco, which definitely is a rare event: It's above freezing at ground level, but the snow probably was driven down into the city by powerful winds. Angela Fritz at the Weather Underground tweets that "We're hypothesizing that given the thunder, there was likely a strong downdraft which was why the 'snow' wasn't melted by the time it reached our level."
Here's the Underground staffers staring out at the strange, falling white stuff:
Watching the #thundersnow from the WU offices in San Francisco! pic.twitter.com/xsJBoPD7Ag

— Angela Fritz (@WunderAngela) March 31, 2014