An award-winning visualization uses satellite imagery to reveal the ravages of development, fire, insects, and clear-cut logging.
There have been great upheavals in the Pacific Northwest's landscape over the past decades—vast areas of forest lost to development, fire, insect damage, and logging activity. But the changes are largely invisible to most people, because of their remote locations or carefully screened-off boundaries. Using a time-lapse animation of satellite imagery, Sam Hooper, a faculty research assistant at Oregon State University, has revealed the disturbances in Oregon and Washington brought on by human and natural activity since the 1990s.
Hooper used Landsat data via the nifty LandTrendr tool to craft "Listening to Landscapes," which just won the People's Choice Award at Science's Data Stories Contest. With gorgeous, flowing surfaces and a contemplative soundtrack Hooper composed on his laptop, the film is a short but eye-opening window into often-hidden world of regional environmental change.
It's no surprise the production has such artistic oomph—Hooper spent years as a studio artist, but quit after deciding that making bronze sculptures was too hard on the planet. "Bronze is mostly copper, so you've got to be willing to admit you support large-scale mining industries," he says. "It's just a very resource-intensive medium."
Hooper's new career in forestry research enables him to "sleep a little better at night" as well as make intriguing projects like "Landscapes," which begins in the 1990s–2012 time frame on Washington's Olympic Peninsula. The view pans southeast over the grayish cities of Olympia and Tacoma; if you look carefully you'll notice they're experiencing suburban growth. It's a little hard to see because the view moves so fast, but this separate animation of Landsat images from 1984 to 2016 reveals what's happening—big build-ups devouring green on the Kitsap Peninsula at the upper left, as well as rapid development toward the lower right around the town of Bonney Lake: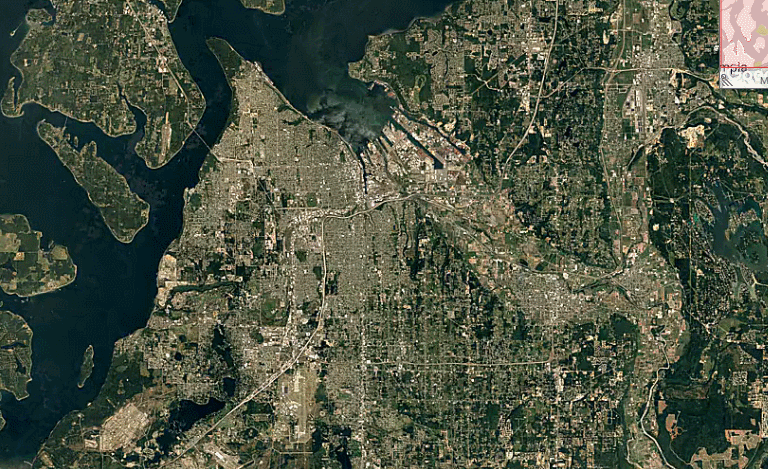 As the focus pans southeast what look like brown lesions boil and shrink on the earth—these are parcels of barren land, some denuded by agriculture and development but the majority from clear-cutting and other logging activities. The Pacific Northwest has some of the most involved logging industries in the United States. Timber-harvests measured in board-feet—commonly described as a board 12 inches long, 12 inches wide, and 1 inch thick—totaled more than 2.8 billion in 2015 in Washington. The state ranked second among all others in the production of softwood in 2005, and in rural areas timber jobs are the main form of employment.
Oregon, meanwhile, had about 40,000 people employed as of 2009 at plywood-making facilities, sawmills, paper-and-pulp factories, logging companies, furniture makers, and the like, pumping out about 11 percent of the bulk-value of all goods and services in the state. It's quite possible the number of logging-related jobs could swell in Oregon in the coming years: On the campaign trail, Donald Trump promised to boost the state's timber industry, perhaps by easing long-standing restrictions preventing logging in federal forests. And one of the first swings he took on international trade was to announce hefty tariffs on Canadian timber, saying the northern neighbor was engaging in unfair practices to rig the prices of softwood coming into the U.S.
The clear-cut areas in "Landscapes" go from tan to light green to dark green, representing a life-cycle of raw dirt to shrubs and smaller bushes to young deciduous and coniferous forests. Logging in the Pacific Northwest occurs on both private and public lands, but mainly private ones—a fact made evident in the way clear-cut operations hit a wall at certain political boundaries. Check out the animation at 0:25, for instance, to see how removed biomass, represented in black, stops in forests at the outskirts of Mount Rainier National Park, as if repelled by an invisible fence manned by rifle-toting Loraxes. (The snow-covered peak, of course, remains very much without biomass.)
Hooper's video makes timber removal palpable to the ordinary person, not just hikers, forest rangers, and other folks venturing in the woods. "A lot of the time there will be buffers around roads, so logging isn't going to happen right by where a lot of people drive," says Hooper. "For somebody who doesn't live in this area where logging is really common, it's not a familiar phenomenon."
"Landscapes" winds up over the Cascade Mountains in Oregon to show the blows landed by one-two punches of bugs and flame. First comes vegetation damaged by harmful insects (mainly the mountain pine beetle and western spruce budworm) from 1984 to 2003, represented in blue. The budworm is said to be the worst defoliator of pine forests in the West, while the mountain beetle has been responsible for about 380,000 acres of dying pines each year over the last decade in Oregon.
Next comes the huge red-colored expanse damaged by 2003's unprecedented B&B Complex fires, which were likely started by lightning and took roughly $40 million in firefighting costs to quash. The pests in the areas leave deserts of dried-out tree corpses in their wake and, though the theory that beetles and budworms worsen wildfires is still being debated, Hooper wanted to draw a suggestive link between the two.
Today, people passing through the Cascades can still see the ruination brought by these disturbances. "In comparison to adjacent forested areas that weren't affected by the fire, the difference is pretty stark: half-burned snags sticking out of thick underbrush in burned areas compared to dense canopies, often with little undergrowth," Hooper says. "From certain vistas, the burned areas look like a book of matches that already burned."
It's possible that, as the climate continues to experience incredible warming, a map like Hooper's could be made in a few decades that shows scads more ravages appearing the earth's skin. Wildfires are a necessary part of the life cycle in many forest ecosystems, but with warmer temperatures scientists predict that, especially in the West, they could soon grow into regular nightmare conflagrations—popping up more frequently and burning mammoth sizes of territory. "Increased extent and severity of fires has been widely linked with climate change because of both warmer, dryer summers," says Hooper, "and melting or otherwise diminished winter snow packs."
There's also the fact that many wood-loving pests also adore hot temperatures. "From my limited knowledge on the topic, milder winters kill off fewer larvae, allowing more individuals to overwinter in places where they previously couldn't," says Hooper. Forest managers of the future likely will battle more-intense infestations of destructive creatures like the budworm and the pine beetle, the latter of which is said to respond to abnormal warmth by going into a "reproductive frenzy," pumping out many more generations of babies in a year than usual.
The great march of insects could bring disruptions to the timber industry. We could see fire-fighting seasons that are incredibly expensive, hazardous, and going on seemingly forever. "It's a somewhat controversial story in the fire-ecology world, because there's little empirical evidence to say, 'Yes, insect damage and dead trees from that damage leads to an increased risk of fire or maybe more fire," Hooper says. "But when you talk to people on the ground—people who spend a lot of time in these forests, like firefighters—it's a very intuitive idea."