Three reporters who have seen the tape agree that's what it looks like.
Does Toronto Mayor Rob Ford smoke crack?
That's what the entire city of Toronto is wondering this morning, after three reporters -- Gawker's John Cook and the Toronto Star's Robyn Doolittle and Kevin Donovan -- claim to have watched a video of the portly, controversial mayor of North America's fourth-largest city lighting up and inhaling from what appears to be a crack cocaine pipe. 
The only response from Ford himself, so far, is that the situation is "ridiculous." We agree. Ford's lawyer, Dennis Harris, told Radio-Canada that the mayor denies the allegations. Other politicians are taking a wait-and-see approach. "He's a bad mayor because he makes bad decisions," councilman Adam Vaughan told the CBC.
Donovan and Doolittle have been investigating substance abuse allegations against Ford for several months, and say they watched the video three times in the back of a car. Here is their report from the Star, with details compiled from notes each of them took separately:
It appears to show Ford in a room, sitting in a chair, wearing a white shirt, top buttons open, inhaling from what appears to be a glass crack pipe. Ford is incoherent, trading jibes with an off-camera speaker who goads the clearly impaired mayor by raising topics including Liberal Leader Justin Trudeau and the Don Bosco high school football team Ford coaches.

"I'm f---ing right-wing," Ford appears to mutter at one point. "Everyone expects me to be right-wing. I'm just supposed to be this great.…" and his voice trails off. At another point he is heard calling Trudeau a "fag." Later in the 90-second video he is asked about the football team and he appears to say (though he is mumbling), "they are just f---ing minorities."
The video, Donovan says, ends with Ford looking at the camera and saying, "That thing better not be recording."
The people who screened the video for the journalists have been pretty up front that they want to sell it for six figures. (Gawker's Cook says he heard that an unnamed Canadian news organization -- possibly the Star? -- had offered $40,000 and been rejected.) Cook called various American media outlets trying to raise the money for its purchase, but when word reached Toronto City Hall that said video was circulating, Cook went public with a screenshot, a story, and the headline: For Sale: A Video of Toronto Mayor Rob Ford Smoking Crack.
So, is it real? All three reporters say that the figure in the video is, beyond doubt, Mayor Rob Ford.
As anyone who reads this site regularly knows, Ford has a history of odd behavior. In February, the Star reported that he was asked to leave a gala dinner after appearing intoxicated and acting inappropriately, a story that Ford called "an outright lie." He likes to read while driving, and earlier this week ducked out of a community meeting to slap refrigerator magnets on parked cars. He was nearly removed from office last fall for procedural misconduct stemming from trouble with campaign contributions. His policies, including the removal of a prominent Toronto bike lane, have made few friends among urban planners, and his dealings with the media have been explosive. 
Here's what Ford tweeted earlier this morning:
The long weekend is here! Catch a ferry to Toronto Island Park for a scenic picnic. Details here: toronto.ca/parks/island/f… #LongWknd #Topoli

— Mayor Rob Ford (@TOMayorFord) May 17, 2013
Whoops! And while we wait to see if anyone decides to shell out for the video, here's another good one of Mayor Ford hiking the ol' pigskin: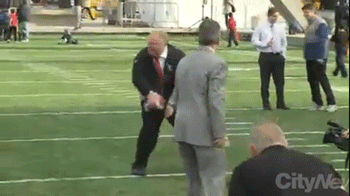 Top image: Toronto Mayor Rob Ford speaks to the media as he leaves his home in Toronto, May 17, 2013. (REUTERS/Mark Blinch)