Unlike certain, ahem, other mayors.
New York City's brand-new mayor Bill de Blasio got his first big administrative test, in the form of a ton of snow all over his city. But he's tackling the problem head-on — starting with his own sidewalk. 
Yes, Mayor de Blasio shovels his own sidewalk at his Park Slope home, all while updating reporters on the city's snow cleanup efforts. Not a bad photo op for your third day in office.
And according to an earlier tweet from his wife Chirlane McCray, it looks like his son Dante (whose friends desperately tried to get him to pull some strings for a school closing) was set to help out, too. Despite Business Insider's worries that the mayor might throw out his back with his shoveling technique, de Blasio clearly knows what he's doing, telling constituents "don't lift with your back, lift with your knees," live on NY1.
The 109th Mayor shovels his sidewalk. Never saw this on E. 79th folks. pic.twitter.com/AtTNuhe5LZ

— Josh Robin (@joshrobin) January 3, 2014
He also certainly knows what message his shoveling sends: de Blasio campaigned as a more hands-on "mayor of the people," on a mission to end inequality. And what's more equal than pushing your own shovel?
It's definitely a change of pace from former mayor Michael Bloomberg, the Upper East Side billionaire often accused of prioritizing only New Yorkers who looked and earned like him. To wit, this is the sort of photo that emerges if you search for a picture of the former mayor shoveling: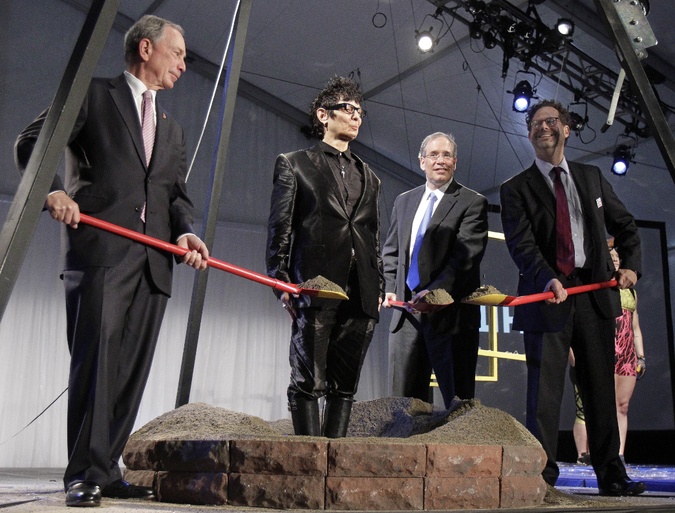 There's also the matter of Bloomberg's own mixed reputation in the aftermath of New York snow storms. In 2010, a Christmas blizzard paralyzed the city with between 18 and 24 inches of snow. As the outer boroughs of Brooklyn, Queens, Staten Island, and the Bronx waited for days to see their first Sanitation Department snow plows, Bloomberg dismissed concerns about the city's recovery: "The world has not come to an end. The city is going fine, Broadway shows were full last night. There are lots of tourists here enjoying themselves." He added, "Many people are taking the day off. Most stores are open." For New Yorkers without the luxury of days off — including many of the workers in those open stores — the comments seemed extremely out of touch. 
But the new mayor's response isn't entirely a departure from Bloomberg's own blizzard plan, as The New York Times reported. De Blasio's snow cleanup team includes some key holdovers from the Bloomberg administration, including the commissioners for fire and sanitation. It's still the same snow and still the same plows, the new guy just plays the part better.
This post originally appeared on The Wire, an Atlantic partner site.