Nokia Maps for iPhone have (almost) everything Apple Maps doesn't.
Nokia announced it will bring its maps to both iOS and Android phones, releasing a mobile app called Here, which should have iPhone iOS 6 users elated because it will bring everything the loathed Apple Maps took away from Google Maps users. Apple Maps doesn't deliver for a few key reasons: It lacks data, it doesn't have public transportation directions, and it doesn't have street view—all things that made Google Maps useful. And all things iPhone users lose when they upgrade to iOS 6, which features Apple Maps instead of Google's. Nokia Maps has two of those things and it sounds like the third one is coming soon. The app will be available in the "coming weeks," says Nokia. But, for those who want to check it out now, it's available on browsers or on phones through this link here. 
As much if not more data than Google Maps. Apple Maps gets things wrong because it doesn't know things. Use will help make this better. (Apple just added a more prominent bug reporting feature with its latest iOS update, which should expedite this process.) But, in addition to this, like Google, Nokia has people driving around Street View-like NAVTEQ cars getting physical data for Here, as The Atlantic's Alexis Madrigal explained. It also has the help of delivery truck systems and other "commercial fleets," all of which led Madrigal to conclude "Nokia Better Maps Than Apple and Maybe Even Google."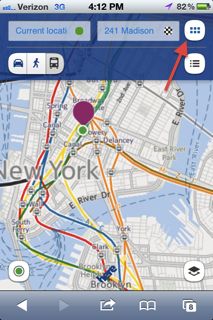 Look! It's subway directions One of the biggest losses for people who live and visit metropolitan areas and need to know how to get around is Apple Maps's lack of public transportation information. Nokia has that. It takes a little getting use to, but to get to the routing feature, click those little dots in the upper right hand corner. After doing that, a list of items will pop up, including a "route" option, which will lead to two fels for putting in destinations. The "current location" is default. 
Street View is coming soon? Nokia Maps has a satellite view option, but no street view. The company announced its acquisition of Earthmine, what TechCrunch's Ingrid Lunden describes as a "specialist in 3D street-level imaging." Lunden says that Earthmine is a direct competitor to Google Maps Street view and Google Earth services. So, don't mind if we get our hopes up for some Here street view.
Given all of these plusses, it might make sense to download the app when it comes out, that is unless Apple approves Google's iOS app, which will supposedly be ready in the next few week, too. Then, we might have to do a head-to-head challenge. Or, if you're feeling appy, get both.
This post originally appeared on The Atlantic Wire.