A look inside
a "carrier hotel" in Manhattan — a building where different ISPs and network companies "check in" with one another.
Adapted from Networks of New York: An Illustrated Field Guide to Urban Internet Infrastructure, available now from Melville House.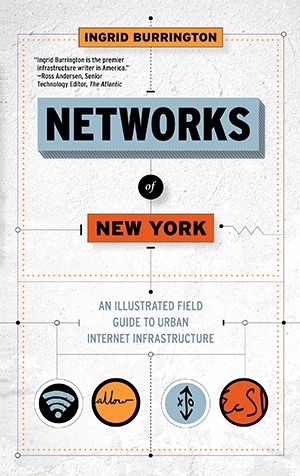 Sometimes people who want to learn about seeing Internet infrastructure ask me to tell them "where the Internet lives." At first glance, this seems like a bit of a misnomer—the Internet isn't a static object, it's defined by the constant movement of information. It doesn't "live" anywhere; it's already everywhere at once—it "lives" in the library down the street, in office buildings, in undersea cables. But there are a few specific types of buildings that hold crucial pieces of Internet infrastructure—less homes for the Internet than waystations that data traffics through. Below, we'll look at a "carrier hotel," one of a number of buildings where different ISPs and network companies "check in" with one another.
111 Eighth Avenue
Built in 1932 when Manhattan's ports were far more active in shipping and trade, 111 Eighth Avenue was initially the Port Authority Commerce Building, a warehouse and center for the transport and storage of packaged freight goods, and later became home to some Port Authority offices. In 1998, Taconic Investment Partners turned it into a carrier hotel. In 2010, Google purchased the building for nearly $2 billion. While Google uses a majority of the building for its own office space, the carrier hotel and a number of ISPs, startups, and ground-level retail stores remain. 111 Eighth Avenue is interesting in itself, but it's also a compelling site because of its Chelsea neighbors. Sometimes I think of it as a metaphor for the Internet itself—a weird palimpsest of law enforcement, network infrastructure, spectacle, and commodities.
No building near 111 Eighth Avenue better reflects this idea than Chelsea Market. Formerly part of the National Biscuit Company's factory, the block-long building is now an upscale mall and food court. Restricted-access elevators lead to the offices of several cable channels, real estate companies, and other tenants. Google leases three floors of the building too.
Until February 2015, Chelsea Market was also home to the NYPD Intelligence Division, which was formed after 9/11 and became notorious for its massively overreaching operations for spying on Muslims. The earliest reference to the existence of the Intelligence Division in Chelsea Market that I found was a redacted NYPD document detailing plans for the 2004 Republican National Convention. The executive summary notes that an "Intelligence Fusion Center" was located in Chelsea Market and served as the "main intelligence gathering and dissemination center" during the Convention. A 2012 document made by Chelsea Market's developer, Jamestown Properties, lists the NYPD as an office tenant occupying 48,000 square feet (for comparison, Google occupies 108,000 square feet in the same building).
Past the Chelsea Market and above the High Line, an enclosed footbridge connects the market to 85 Tenth Avenue, another former National Biscuit Company building turned into a mix of luxury retail, technical infrastructure, and law enforcement. The building is home to a Level 3 colocation center, ground-level expensive restaurants, 360,000 more square feet of Google offices, Möet Hennessy's New York offices, and the FBI's Joint Terrorism Task Force.
The JTTF began as a partnership between the NYPD and the FBI in 1980 while investigating the Puerto Rican paramilitary organization Fuerzas Armadas de Liberación Nacional (FALN). Essentially, it's a program designed to make it easier for city police departments and the FBI to work together on investigations rather than having the two agencies work separately on the same case. Today, it has offices in 103 cities; 71 of those offices were created after 9/11.
According to a General Services Administration document from 2014, the JTTF has been at 85 Tenth Avenue since 2005 and intended at that time to renew its lease through 2020 or until it could move to another "government-owned location." It's unclear whether they chose the location for its proximity to Internet cables (Level 3 acquired its colocation space in 1999) or for its raw post-industrial interior, which can accommodate its unusual architectural needs. In Enemies Within, a comprehensive volume on the NYPD Intelligence Division, the authors Matt Apuzzo and Adam Goldman describe a "cavernous" secure compartmentalized information facility (SCIF, a fancy acronym for "surveillance-proof government building") on the tenth floor, and a 2015 House of Representatives document approving the lease renewal noted that the task force rented 168,000 square feet at an annual cost of around $13 million. The footbridge above the High Line that connects the building to Chelsea Market is supposedly a direct link between the Intelligence Division and the JTTF, although it remains locked—communication across agencies is apparently Not Their Thing.
One less obviously relevant but still interesting landmark in this accidental luxury-as-cloaking-device tour is located across the West Side Highway from 85 Tenth Avenue: Pier 57, which is currently under development by Youngwoo & Associates to be a luxury retail site rebranded as the SuperPier. The building, a former MTA bus repair center, is more familiar to some as "Guantanamo on the Hudson" due to its use as an arrest holding site for an estimated 1,200 protesters during the 2004 Republican National Convention.
In a press statement following several settlements to RNC cases in 2014, the National Lawyers Guild described conditions in Pier 57 circa 2004:
. . . cyclone fencing was used to create cages in a warehouse-like area still covered with grease and brake fluid. Signs still hung from the walls warning workers to wear hazmat suits. There was no heat, no place to lie down, and a handful of port-a-potties. Protesters were held in these disgraceful conditions for up to 48 hours before being transported to court facilities—long enough to exhaust them and keep them off the streets until after George Bush was re-nominated. Many left with skin rashes and respiratory problems, and some developed more serious medical conditions.
No word as of yet on whether SuperPier tenants Opening Ceremony or Google will incorporate the Guantanamo-on-the-Hudson aesthetic into their interior design.
That an industrial bakery like National Biscuit Company and a Port Authority warehouse would be transformed into a data center and an Internet exchange is perhaps not a surprise, given infrastructure's tendency to inherit the spaces of preceding technologies (the same could be said for Google's steadily increasing footprint in the area). The presence of high-end retail in former industrial spaces is also a familiar narrative; spaces for other people's leisure love to evoke nostalgia for other people's labor. Law enforcement's placement within this landscape is probably more pragmatic than poetic (raw industrial spaces reworked for retail can be as easily reworked for government-specified security standards), but there is something weirdly dislocating about walking through the retail corridors along Fifteenth Street, aware of the layers of state and infrastructural control a few floors aboveground and layers of fiber-optic networks several meters underground—systems and histories mostly glimpsed by following orange spray-paint markings from Eighth Avenue to the end of Fifteenth Street.
Used with permission of Melville House. Copyright © 2016 by Ingrid Burrington. Author photo by Jonathan Minard.