A biweekly tour of the ever-expanding cartographic landscape.
Welcome to the latest edition of MapLab. Sign up to receive this newsletter in your inbox here.
---
Craig Dalton, a professor of geography at Hofstra University, looks for maps that complicate conventional views of the world. He studies and creates "counter-maps," a term for cartography that reveals the realities and knowledge of marginalized groups in society.
"Mapping has been the tool of empires and governments for 500 years," Dalton told MapLab, pointing to the days of Columbus and other Western explorers who used geographic tools to colonize civilizations around the globe. "What happens when maps get into hands of people who've been victims of cartographic sleights of hand?"
Examples abound. Indigenous people from Indonesia to New Mexico to the Arctic have used mapping tools to advocate for their claims to ancestral lands and legacies. The Anti-Eviction Mapping project, which shines a light on vulnerable tenants in the San Francisco Bay Area, and Million Dollar Blocks, which visualizes the massive social cost of incarceration, are two well-publicized American examples. Counter-mapping groups in Europe, Latin America, and the U.S., including Kollektiv Orangotango and Dalton's own Counter-Cartographies Collective, have produced volumes of maps that push back against the status quo.
Some counter-maps aim to agitate for change on behalf of their mapmakers, while others simply seek to contribute to public knowledge. The key difference between these sorts of maps and, say, a humanitarian mapping project is that they're by and for the people who want to see reform. "They're usually doing it without a major institutional backer," Dalton said. The term, coined by the UC Berkeley policy professor Nancy Lee Peluso in 1995, is a wide umbrella, and its meaning varies depending on context.
While many counter-maps have been successful in making a difference—Dalton points to how American suffragettes deployed maps to fight for women's right to vote at the turn of the 20th century—good intentions can gravely backfire. In one recent example, reported on by the Guardian, a non-profit doing homelessness outreach via maps in London wound up exposing their clients' identities to the British Home Office, which then deployed the information to deport non-U.K. citizens among them. "Sometimes no map is the best map of all," Dalton said.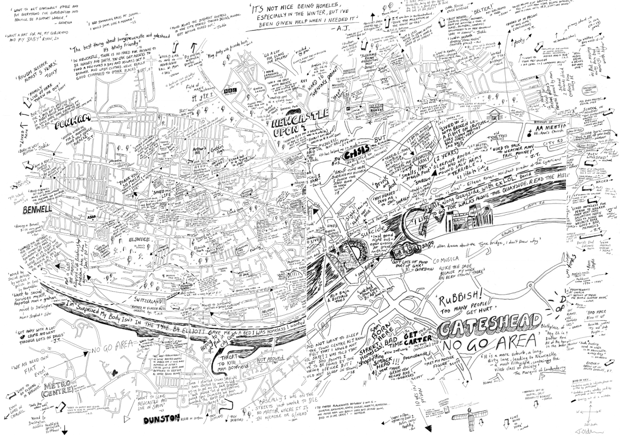 Still, he thinks the practice of counter-mapping can play a crucially subversive role, especially now as the use of maps for commercial gain has exploded. "So many of the maps we use today are for the purposes of consumption, whether it's Google or Facebook serving you ads, Uber finding you rides or food, or Tinder finding you a date," Dalton said. "But counter-maps are different. They're not about monetary exchange—it's about something that needs to change in the neighborhood."
---
How a writer remapped his painful early memories
In the latest essay for The Maps That Make Us, CityLab's ongoing series about the power of maps in our personal lives, the transportation expert and author Steven Higashide writes about how using MobRule—an throwback Web 1.0 site where mappers track the U.S. counties they've visited—helped him uncover joyful memories of childhood, after years of stinging reminiscences.
He writes:
I didn't expect how, through a zeal for completion, I would surface so many happy buried memories—and how, as a result, I came to understand my life as being much more vivid and full. Over time, the fears and anxieties of my youth have become less important. I have been to 334 counties; my worst childhood experiences are held by just two: Cook County, Illinois, where I spent half of my youth, and Middlesex County, New Jersey, where I spent the rest. And as my world expands, those two tiny points on my map grow even smaller.
Read his essay here.
---
Mappy links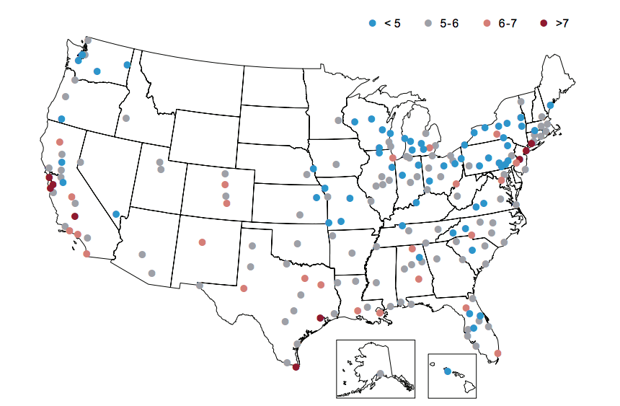 The wage gap is growing: here's where. (CityLab) ♦ A deep interactive dive into the design history of the MTA subway map. (New York Times) ♦ A new exhibit at the Boston Public Library traces the upheaval and transformations of the 19th century. (Boston Globe) ♦ For the map lover at your holiday celebration: a review of some of the best recent map anthologies. (New York Times) ♦ Humanitarian mappers are taking college campuses by storm. (Washington Post)
---
Love MapLab? Have feedback? Let me know, please! And as always, have your friends sign up for this newsletter here, if they please.
Cheers,