I went to college in Philadelphia—a city that I think is pretty underrated. It boasts neighborhoods with great personality, immigrant cuisine, and history. Also, now, Gritty.
Over time, my memory from my four years in the city gets fuzzier, except when I encounter a distinct sensory trigger. Like, the clickety-clackety fluttering of the Amtrak train information board at 30th Street Station. Then it all comes rushing back.
Amtrak wants to replace that beloved board with a snazzy digital screen for—to be fair—very good reasons. (It's old!) The other "split-flap" displays in other U.S. train stations have all been scrapped. But Philadelphians weren't having it. It wasn't just the nostalgic value—this thing was a design icon! A cultural artifact! An object crucial not just to my memory, but that of so many others! And now, it may still live. I wrote about it here.
Are there objects, buildings, or other historical quirks in a city you've lived in that shape your memory of it? Let me know. And thank you to those who wrote to me last time. It's always so nice to hear from you!
What we're writing:
So what does a night mayor actually do? ¤ Paul Rudolph in Hong Kong. ¤ Is your city's Christmas tree looking a little… scraggly? ¤ Architecture classes, for kids! ¤
Also, we plotted the results of a poll asking folks to rate U.S. cities on a tacos vs. transit graph. Drumroll for the results please!!!!!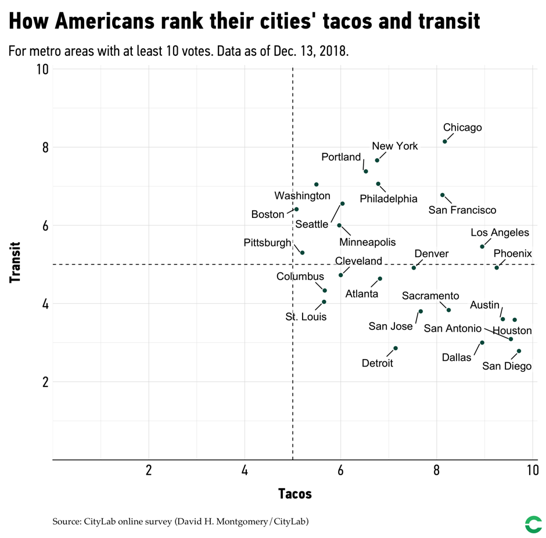 What we've been taking in:
"There is a faux-truism in America that LGBT folks do not fare well in the countryside." (Boston Review) ¤ The woman architect from Sri Lanka that history forgot. (The Guardian) ¤ When librarians rode through rural Kentucky on horses. (Smithsonian) ¤ A cross-section of Damascus Road. (Synaps) ¤  The dark side of the rehab empire built on selling cake. (Latino USA) ¤ A typographic tour of Manhattan's Chinatown. (Eye on Design) ¤  Reimagining the Mexican game of Lotería. (Los Angeles Magazine) ¤ Okra in Lagos. (Popula) ¤ "The bombers that used to roost here are long gone, but the site is now home to the ceaseless song of skylarks." (Places Journal) ¤
View from the ground:
@tlaloc1977's shot of London Bridge includes rare British blue skies. @d_veremchuk captured pointed architecture in St. Petersburg, Russia. @jedimindtricks59's picture of Hunters Point South Park in Queens features the sunset over New York City's skyline. @kurgae reminds those in colder climes what the Miami sun looks like in summer.