Why Vulnerable Populations Need Compassionate Cities
One in seven Americans live below the poverty line
Janet K. of Memphis is a widow living on fixed income and Social Security, and deals with health issues related to her age. She's struggled with tree roots invading her sewer system for years and knew something had to be done.
Unfortunately for Janet, she simply didn't have the $3,000 needed for the repair. Like many Americans unsure of what to do with an emergency repair, Janet turned to her church, family, and prayer.  Fortunately, her supportive local community helped her to rebuild.
The effects of a financial shock, such as a major car repair or a sudden loss of income, can be especially difficult on the elderly. According to the Urban Institute, "As a nation, and within our cities, our population is aging. The number of Americans over 65 will double between 2000 and 2040, while the number of adults over 85 will quadruple over that period. And there are many within this aging population who have not adequately saved to prepare themselves for the expense associated with increased life expectancy and aging in place.
Poverty in American Communities
Poverty in the US has changed little over the past four decades. Currently over 43 million people, one of every seven Americans, live below the poverty line in urban and rural communities. These households are extremely vulnerable to the effects of a financial shock, caused by expenses or lost income that families do not plan for; such as from job loss, illness, injury, death, or a major home or vehicle repair.
A study on the future of equity in cities recently published by the National League of Cities indicated that while cities are benefiting from the "positive outcomes of wealth flooding into metropolitan regions, they also feel the negative impact on community members of varying income levels – particularly, those at the bottom that face increased housing prices, greater need for social services and growing concern for community safety."
Organizations such as the National League of Cities and PolicyLink are advocating for an equitable agenda when it comes to urban development plans, recognizing that well-planned urban infrastructure can have a positive impact on communities often left behind. According to Anita Cozart at PolicyLink, "infrastructure is vital for sustaining and reinforcing community. The networks, roads, schools, drinking water, sewer systems, facilities, and properties that comprise public infrastructure define neighborhoods, cities, and regions." And city planners don't have to go it alone. Cozart says "there are also emerging leaders in the philanthropic and business sectors who are embracing the agenda."
Over 500 cities across North America have decided to partner with the National League of Cities (NLC) Service Line Warranty Program, administered by Utility Service Providers, to offer an affordable solution to their residents, a solution that complements the infrastructure planning needed to build vibrant cities.
The NLC Service Line Warranty Program is a good example of the private sector contributing to infrastructure improvement. Requiring no investment of municipal dollars and little in the way of municipal management, collaborating with this NLC program enables municipalities to educate and protect homeowners without the extensive logistical and administrative challenges that can distract from their core missions.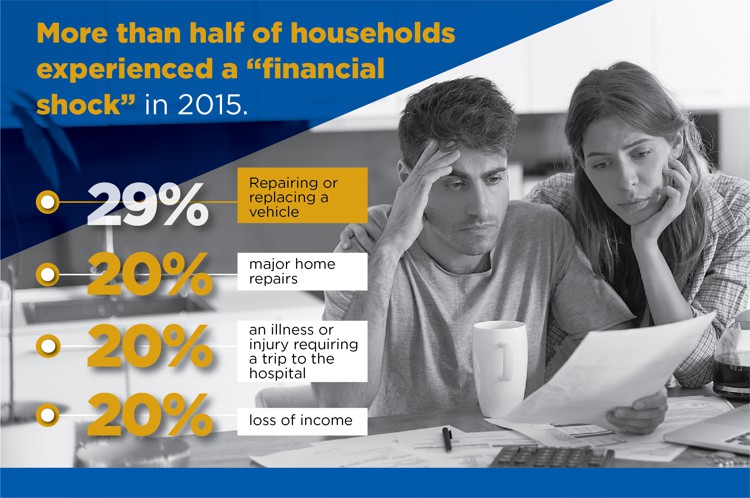 The Average American is Unprepared for Financial Shock
Adam and Jennifer F. loved the first home they purchased a historic 100-year-old house in a quiet Wichita, Kansas neighborhood. But when their private sewer line failed, the line that carries sewage from their home to the city's main sewer line in the street, they were at risk of real financial hardship.
The cost to replace and re-route the line would be at least $7,000 dollars – a significant portion of the couple's annual income. Since they were unable to afford the needed repair, a local contractor who works for the NLC Service Line Warranty program approached Utility Service Partners to see if the job could be covered under their HomeServe Cares program. These programs can help younger people who haven't yet built up the savings or credit to afford unexpected home repairs.
When researchers at the Federal Reserve asked the average American whether they could handle the cost of an unexpected home repair project, the answer was simple: no. The Federal Reserve Report on the Economic Well-Being of U.S. Households in 2017 found that 4 out of 10 Americans can't afford a $400 emergency expense and would have to sell something or take out a loan to cover it. These types of financial shocks can be catastrophic to already vulnerable households as well as those in the shrinking urban middle class, and they happen with alarming frequency.  
Aging Private Infrastructure Contributes to Financial Pressures
Paul T. of Waukegan, Illinois, a 96-year-old World War II and Korean War veteran, is living his retirement years surrounded by his family. He shared his home with the children he had raised there and his grandchild. Having his family around him helped the older veteran address health issues, including asthma and being on oxygen.
When's Paul's plumbing system choked and backed up, Paul's unfinished basement filled with six inches of gray water, and everything in the home's sewer system ended up in the basement.
Fearful for their father's health and worried about the possibility of toxic mold, the family sent Paul to live with a nearby family member as they tried to address the issue – and how they would pay for the $3,000 repair bill.
When an unexpected financial shock is added to the mix, the elderly may deplete already insufficient retirement savings.  According to a survey, when faced with an emergency expense, about a quarter would use early withdrawal from retirement accounts, such as a 401(k), or an individual retirement account (IRA), and this was more likely in households with lower incomes.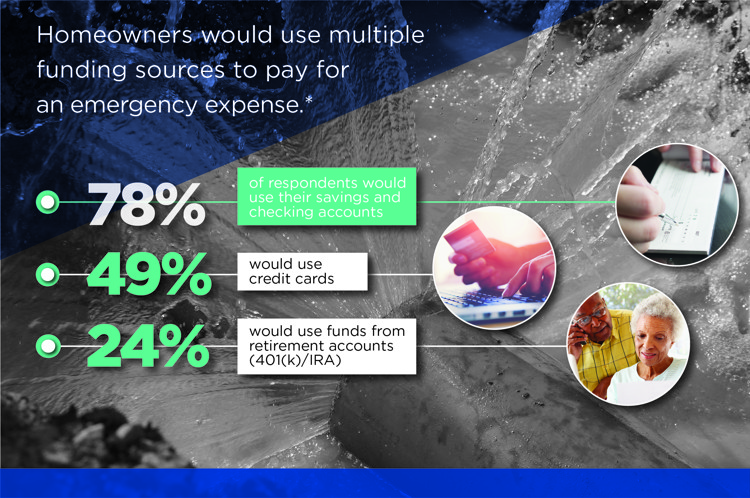 Embracing Equitable Agendas in City Leadership
Even with cities making efforts toward equitable infrastructure planning, many residents are still at risk for a significant financial shock due to the aging private infrastructure that brings fresh water into their homes and carries sewage out. Breaks or leaks in private side water or sewer lines can result in repair bills into the thousands of dollars. These leaks and breaks in water and sewer lines, the lines that run between a home and the city's main line, are far more common than most people assume.
According to a recent study by HomeServe USA, a leading provider of home repair solutions and parent company of USP,  that administrates the NLC Service Line Warranty Program, 51% of homeowners reported having a home repair emergency in the past year alone.
USP and HomeServe execute over 400,000 repairs each year and are therefore  keenly aware of the prevalence of these emergencies as well as the financial hardship they can cause for unprepared homeowners. "We want to work with our city partners to find solutions to real issues," said John Kitzie, CEO of USP.
Thus, the HomeServe Cares program was created as a public commitment to aid disadvantaged homeowners who are faced with a service emergency and don't have the resources or capability to deal with it.  The program leverages the company's most valuable resources: the outstanding network of over 1,100 local contractors, to deliver services to their neighbors in need. Like Paul T. in Waukegan.
A local contractor who is part of the network servicing customers of the NLC Service Line Warranty Program alerted USP to the family's troubles. The HomeServe Cares program covered the cost of the emergency, after-hours dispatch to pump the grey water out of the basement and clean out the sewer line. Once the basement was free of water, the NLC SLWP also arranged the installation of a new water heater, restoring hot water to the family's home – all of it without cost to Paul and his family through the HomeServe Cares program.
Caught without a safety net, vulnerable populations of varying ages and income levels, like Paul and Adam, are often left with nowhere to turn.
City Leaders Step Up to Help Vulnerable Populations Rebuild and Repair
Many innovative city leaders agree that these stories demonstrate the need for equitable infrastructure planning to include a component to cover the private side of aging infrastructure. Low cost emergency home repair plans help financially vulnerable populations prepare for potential breaks and leaks to the service lines that provide them with fresh water. These programs also serve to educate homeowners about their responsibility for repairs to these lines. In all of these cases described, an inexpensive monthly repair service plan would have provided the homeowners with immediate access to repair or replacement of the damaged water and sewer lines.  
Mildred Crump, former City of Newark, New Jersey councilwoman, was keenly aware the City was experiencing a steady increase in water infrastructure challenges and problems.  
In the City of Baltimore, city leaders knew if the city officials were struggling with infrastructure problems on the public side, then so were residents. "We needed to find a solution for our residents, because they could be faced with unexpected, and high, repair bills," Shonte' Eldridge, Baltimore City's Deputy Chief of Operations, said.
Over the past 15 years, the combined power of USP and HomeServe have performed 2.9 million repairs or replacements to critical home systems, spending more than $775 million. But these repair programs are primarily introduced to homeowners through partnerships with cities or utilities, and many city officials remain unaware of the urgent need for them or are unconvinced their residents need them.
"Throughout those couple weeks, I shared my story with lots of different people, and I was shocked to learn how many people have similar issues. Many feel the same way I do," Adam said. "If I would have known of the availability to purchase a low cost repair plan, I would definitely have purchased it"
When a city embraces a partnership with the program, the investments will address both the issues of aging infrastructure and equitable progress in their cities, helping ensure that vulnerable populations have access to the home repair resources desperately needed to keep them in their homes.