The Future is Green
How green jobs can increase resiliency and create economic opportunities in vulnerable communities.
Two weeks after Hurricane Irma struck South Florida in September 2017, Nicholas Paulino and his wife were getting desperate. Their restaurant in Miami's Little Haiti neighborhood had been badly damaged during the storm, and they needed financial assistance to help reopen. The restaurant was their livelihood, and bills were piling up.
After being denied FEMA assistance, the Paulinos started to panic. Luckily for them, Catalyst Miami, a nonprofit assisting residents of low-income communities throughout the area and a Citi Foundation Community Progress Maker, helped them secure emergency funding, allowing them to make the necessary repairs to their restaurant and reopen in short order.
"I didn't have access to the funds I needed to continue running my business," said Mr. Paulino. "[Catalyst Miami] played a leading role in my ability to get back to work and make a living."
Low-income communities like Little Haiti are usually the least prepared for the impacts of a natural disaster. They don't have the resources or political clout necessary for such preparation, and they are often located near sources of pollution or other hazards that increase the potential for damage. Many of these communities have become leading advocates of the environmental justice movement, which in recent years has brought national attention to the struggles they are up against, whether it be toxic water in Flint, Michigan, industrial emissions in Houston, Texas, or flooding in Miami, Florida.  
Accompanying this shift is a movement of organizations working to not only protect vulnerable communities from negative impacts, but to make sure the people living in them benefit from positive environmental trends, like the clean energy revolution or increased investment in green infrastructure. The Citi Foundation has identified 40 innovative, community-minded organizations, collectively called Community Progress Makers, awarding them with the flexible funding to increase their impact, scale their work, and share successful frameworks with like-minded organizations across the country. Catalyst Miami is one of them.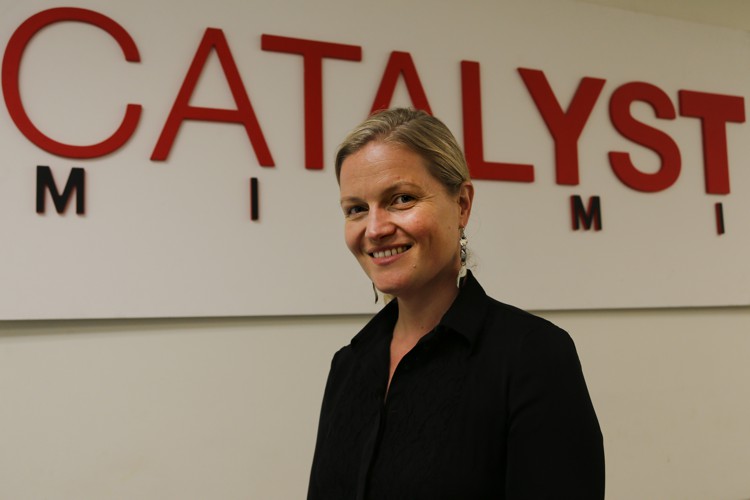 "There is no substitute for partners that are deeply rooted in communities, who can use their local knowledge and networks to help us enable progress," said Brandee McHale, president of the Citi Foundation. "Among this innovative group of Community Progress Makers are change agents that recognize the intersection between climate and economic vulnerability, and are helping meet those needs by tapping into the growing green job sector."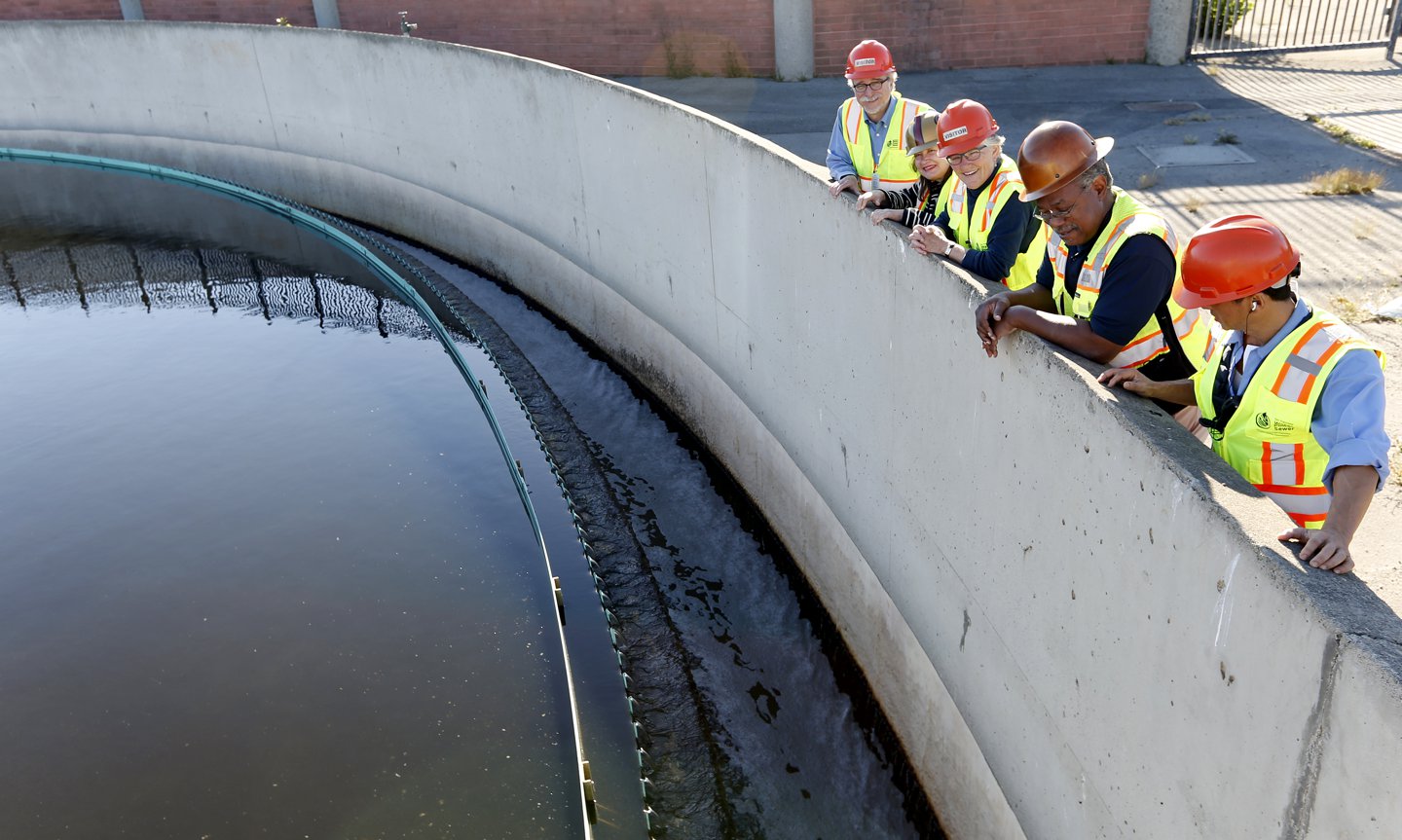 Another compelling Community Progress Maker organization is San Francisco-based Jewish Vocational Service. JVS is addressing the threat of sea level rise to certain neighborhoods, like the city's 10th District—which has one of the highest poverty rates in the city—while focusing on creating much-needed jobs at the same time.
"Designers and city planners are projecting a need for more than 20,000 jobs in [District 10] alone in climate resiliency and infrastructure improvement roles," said Francesca Vietor, senior advisor with the San Francisco Foundation, which works with JVS. "Viewed through this lens, the attractiveness of a solution that could simultaneously address the two issues—climate resiliency and career pathways for members of low-income communities into high-quality, stable jobs—becomes obvious.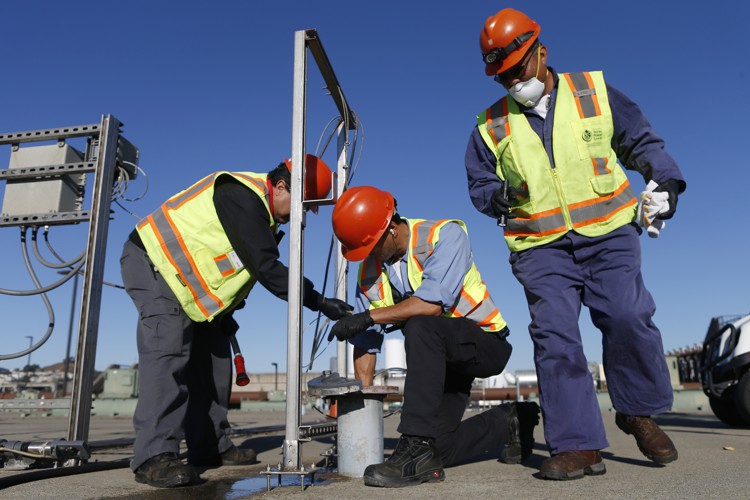 Abby Snay, CEO of JVS, said it's important that the concept of "green jobs" gets expanded to include the urgent need for work related to climate resiliency and infrastructure strengthening, including water and energy projects, a recommendation echoed by global organizations such as the World Bank, the UN, the Organization for Economic Co-operation and Development, and the European Commission alike.
Just as JVS is re-examining the landscape of the clean energy economy, Chicago's Elevate Energy is also working to unleash the potential of the green job sector in lower-income neighborhoods. Ranging from installing solar panels to retrofitting buildings for increased energy efficiency to analyzing energy costs, Anne Evens, Elevate Energy's CEO, considers working to spread the benefits of the clean energy economy to be a truly equitable pursuit.
"Everyone benefits from solar panels, energy efficiency, and growth of jobs," she said.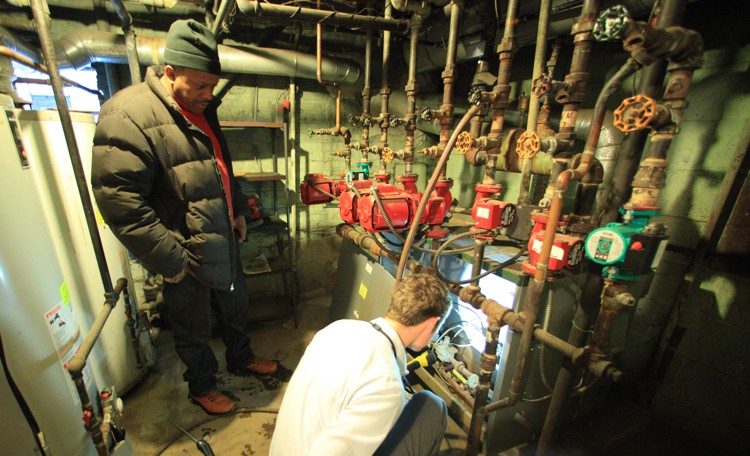 In certain cases, Elevate Energy's work can be life-altering, as was the case with an apartment building owner in Chicago's South Side that came to Elevate Energy in a desperate situation. Her building's gas bill had just jumped tenfold, according to Evens, and she was at risk of losing the building because she couldn't pay her bills, which in turn threatened the viability of the affordable housing units in the building.
By intervening with the utility and engaging a contractor to make energy efficiency improvements, Elevate Energy was able to help the building owner cut the building's energy bill back in half, which kept the building's utility costs affordable enough for the owner to keep it.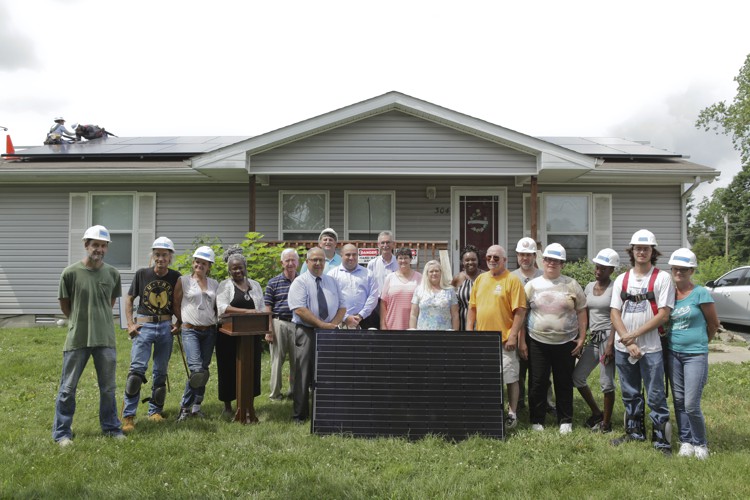 "Even if people are aware of energy efficiency, they're more likely to know of solar panels and may not think there's any opportunity for themselves [due to perceived higher costs]," said Evens. "The clean energy economy may look to them like another opportunity for people not from disadvantaged communities. We strive to show that there are opportunities for them to benefit as well."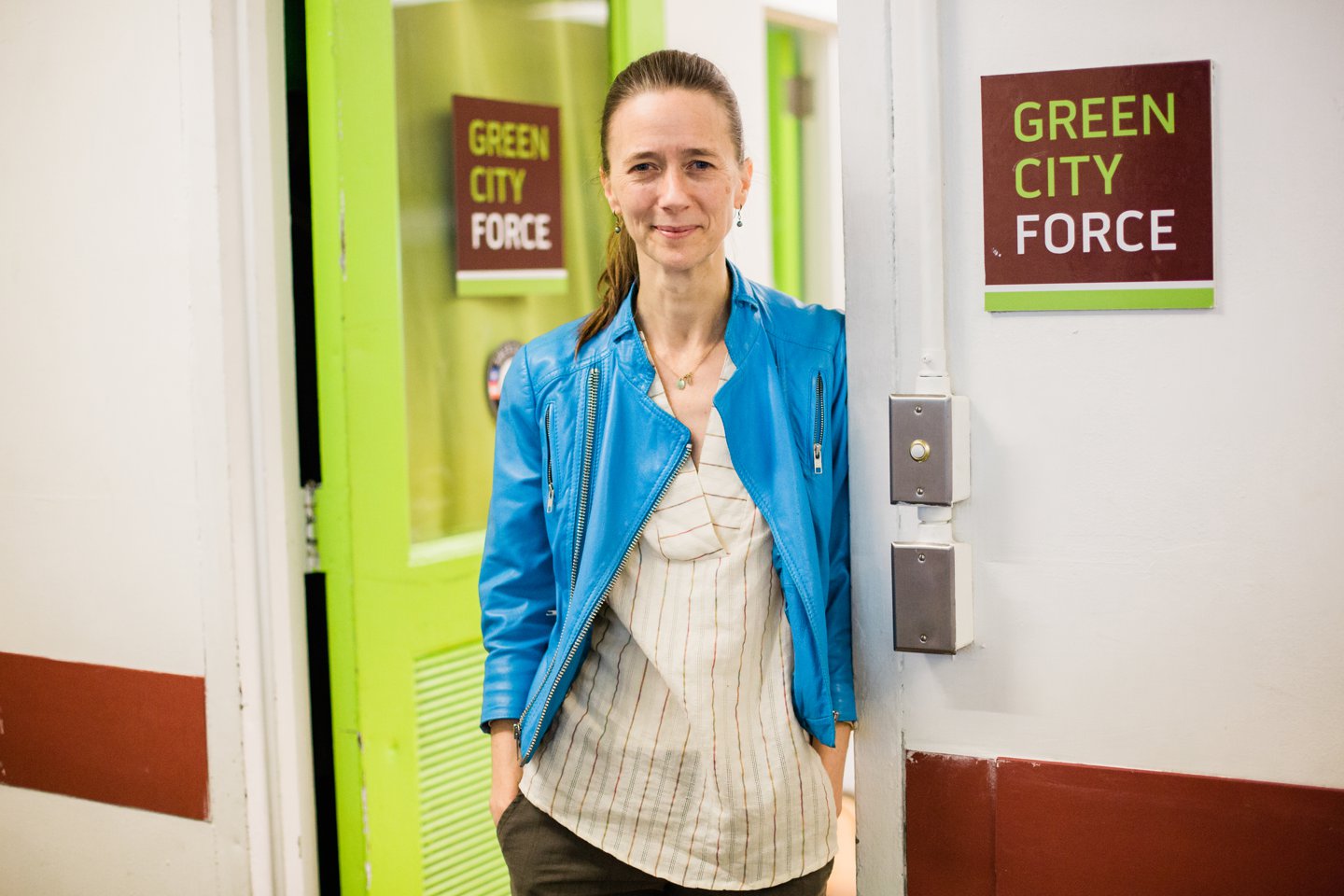 In New York City, Green City Force has helped hundreds of 18- to 24-year-olds living in public housing take advantage of job opportunities in the green economy by bringing them into the clean energy economy. Green City Force recently established a new social enterprise business that manages energy efficiency contracts in New York City public housing, and includes tasks like swapping out old light bulbs for more energy-efficient models throughout NYC Housing Authority properties.
Lisbeth Shepherd, the founder and executive director of Green City Force, said advancing employment in low-income communities and the shift to more sustainable cities are both issues that are "acute in public housing," especially in New York City, where inefficient energy use in buildings contributes nearly 70 percent of the city's greenhouse gas emissions.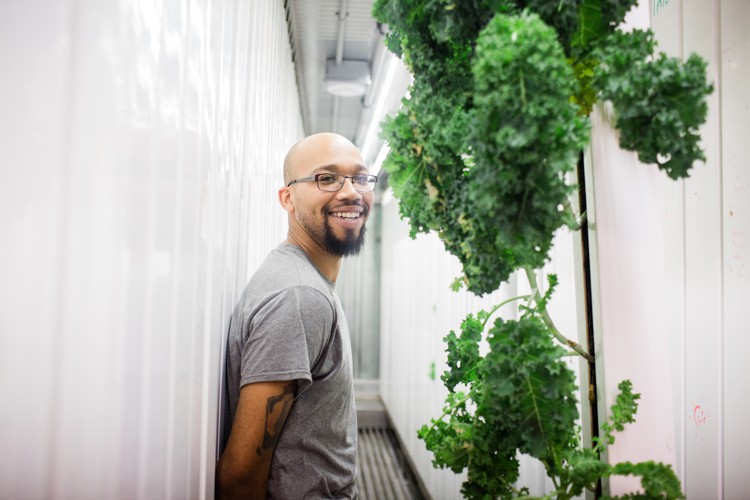 Green City Force also helps establish urban farms, one example of how greenspace can bring enduring positive changes to low-income communities, where public spaces and fresh produce are often hard to come by or simply nonexistent. The benefits of urban farms are two-fold. On the one hand, the urban farms produce nutritious, high-quality produce like kale, peppers, and mushrooms. And secondly, the educational component of learning to manage urban farms can be leveraged across several industries, including botanical sciences, supply chain management, farm to table eateries, and supplementing grocery stores with locally grown offerings.  
In recent years, there's been an extensive civic refocus on urban greenspaces as cities realize their potential as gathering spots and urban oases with great physical and mental health benefits. In Washington, D.C., the nonprofit Building Bridges Across the River is undertaking an ambitious project to turn an out-of-use bridge into a valuable greenspace while attempting to avoid the potential pitfalls that often accompany such revitalization, namely gentrification and rising rents.
In recent years, there's been an extensive civic refocus on urban green spaces as cities realize their potential as gathering spots and urban oases with great physical and mental health benefits. In Washington, D.C., the nonprofit Building Bridges Across the River is undertaking an ambitious project to turn an out-of-use bridge into a valuable green space while attempting to avoid the potential pitfalls that often accompany such revitalization, namely gentrification and rising rents.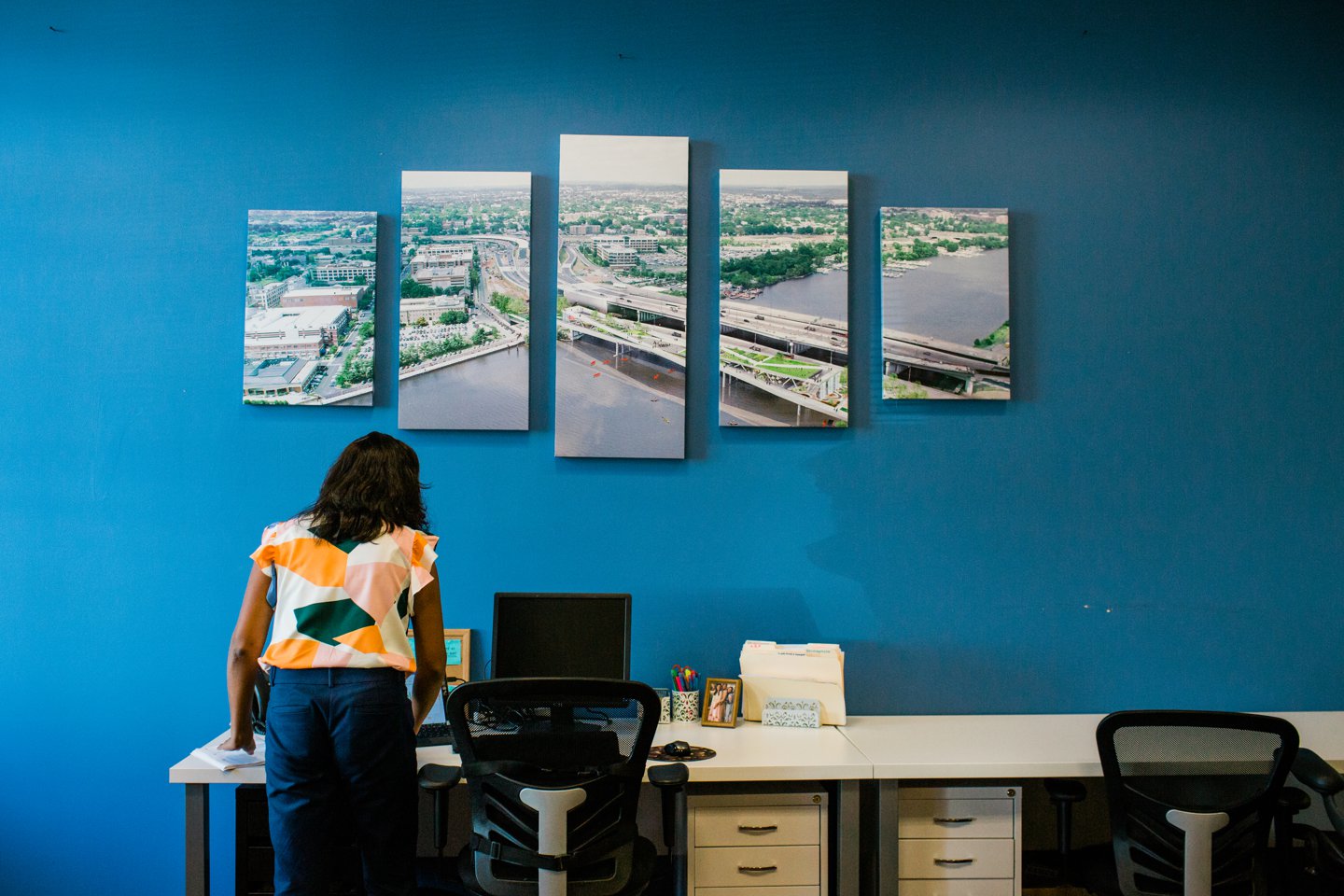 Building Bridges Across the River Director Scott Kratz said the Anacostia River has been a dividing line in D.C. for generations, historically separating the lower-income communities of color on the southern bank from the rest of the city. The bridge will provide an important new public space for people from both sides of the river to gather, but Kratz wants to make sure it also benefits the adjacent neighborhoods. Like many D.C. residents, he's seen other parts of the city change seemingly overnight in recent years, causing many longtime residents to look for more affordable housing outside of the District, even if it would have been their preference to stay.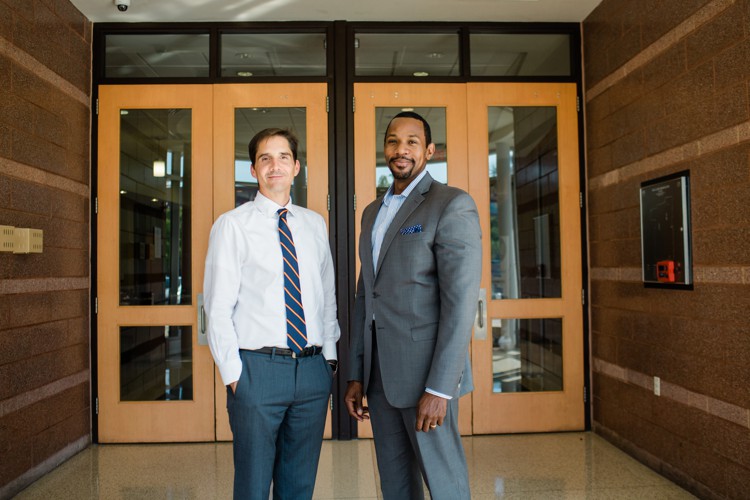 "We want to make sure residents that help shape the project are the ones that benefit," said Kratz. "We need to be intentional and make sure it's the community that's driving this."
To help with this, Kratz and other stakeholders developed an extensive Equitable Development Plan, which he hopes can be used for similar projects in other cities as a way of prioritizing "inclusive development." The plan focuses on all residents regardless of demographics, and calls for employing a local workforce, incorporating the potential for new small businesses in the surrounding community, and prioritizing residents' desires for the design of the project, which in this case meant a large amphitheater that will be used to highlight the vibrant local arts and culture scene.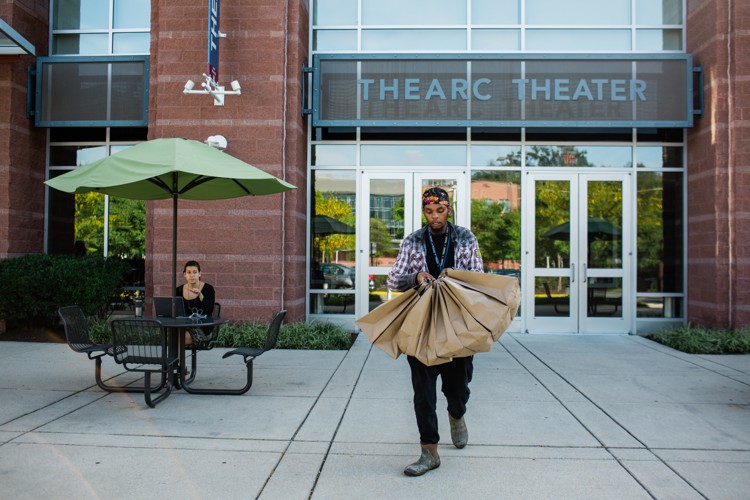 In American cities today, it's impossible to think long-term about building vibrant urban centers without considering the environment. When residents are able to bounce back from a natural disaster, increase their economic stability through money-saving energy use, better access greenspace, and fill the jobs that enable these environmental safeguards, they can better focus on thriving financially and, in turn, boost their local economies. By merging environmental and economic concerns, these organizations are not only helping communities prosper now, but they are helping residents and their cities better prepare for the future.
---
More from Citi:
How Sustainable Development Has Taken Root Nationwide
The American Economy is Experiencing a Paradigm Shift