At the largest stage in the world focused on innovation and the future, Jim Hackett, the Ford Motor Company CEO and president, was talking about the past. "The early automobile turned out to be the ultimate disruptor," he noted in his CES keynote in January. Cars transformed cities at unprecedented speeds, expanding access to work, education, and healthcare in exchange for remaking America in their image.
"Roads that were built for cars replaced streets that were built for living," Hackett said. "This is the paradox of innovation — by enabling one freedom, we constrain others." Hackett had made a remarkable admission — cars had broken cities while trying to solve them.
Like other automakers, Ford had come to CES to showcase its connected vehicles, cloud-based services, and even autonomous pizza deliveries. But unlike his rivals, Hackett offered attendees a broader vision. One that was built on the lessons of the past, but looked to a future in which new technologies would reclaim streets from cars and return them to people. By bringing both citizens and city planners back into the process, new mobility services wouldn't run roughshod over cities the way cars did. It's one that Ford is building on with their recent expansion into Corktown and purchase of Michigan Central Station.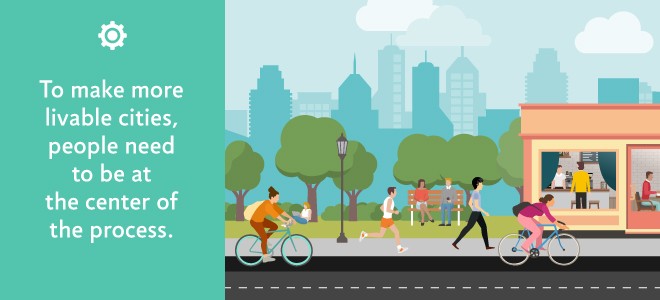 Engaging with Community
Ford's not alone. Realizing that moving fast and breaking things only goes so far when it comes to working with cities, ride-hailing upstarts have somewhat relaxed their grip on sharing data while testing electric bike-sharing for shorter trips. Others have offered proposals for redesigning streets to boost capacity while reducing congestion. And nearly every automaker has invested in mobility-as-a-service, whether through car-sharing, ride-hailing, microtransit, or AVs.
Ford's rejoinder: no one else is thinking holistically about what it will take to create these "living streets." This will require pairing an open data and software platform with a commitment to work with cities and communities to transform their needs and desires first into policies, and then into services. Unless people are at the center of the process, cities run the risk of making mistakes similar to their response to the Model T. Ride-hailing for instance, is increasing congestion in London, New York, and San Francisco despite claims to reduce private auto use.
The first step — bringing community advocates into the mix — is arguably the hardest for automakers, tech companies, and residents alike. That is why organizations like Better Block Foundation are so important. Launched in Dallas in 2010, Better Block helps cities, communities and neighborhoods reimagine their built environments to create the type of growth and vibrancy they want to see. "Often, when we visit communities, they don't really know what's working — they don't even have examples of what they could do," says Jason Roberts, founder and chair of Better Block Foundation.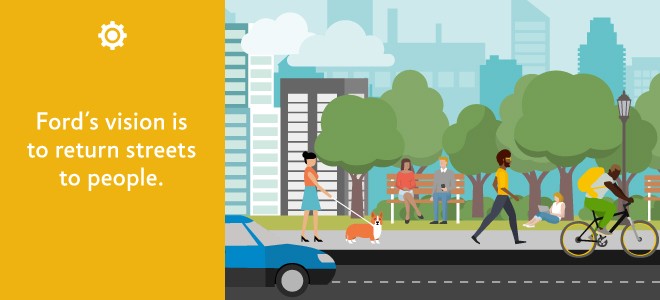 Better Block offers the tools and framework for local organizers, neighbors, and property owners to put people's needs first as they redesign a single block. Through "tactical urbanism" citizens use fast, cheap, and easy projects (such as DIY crosswalks and bike lanes) to call attention to the streets they want. "We can take real estate dedicated to one purpose and ask what's your desire," says Roberts. One clear example is the portable "mobility parklet" Roberts and his team created, with Ford's help, as a place to store dockless bicycles and wait for a bus or ride-hailing pickup.
DIY planning at the block level, can bring real change to communities, but engaging citizens needs to be scalable. To that end, Ford has launched a series of "city challenges" to surface the needs of communities. The first, held in Detroit over six months, drew more than a thousand participants, awarded $60,000 in prizes, and generated 160 ideas. "The only reason these challenges were successful is because we took the time to connect with community leaders," says Jessica Robinson, director of City Solutions at Ford Smart Mobility. "That takes a while, but it's the only way we can get to the heart of what their needs look like."
Once citizens have signaled their needs, a strategy needs to be developed. An example comes from the National Association of City Transportation Officials (NACTO), a coalition of cities and transit agencies that's drafted guidelines for redesigning urban streets to reflect these new uses. This includes a blueprint for managing AVs, from safety to reining in their use of the curb.
The Bloomberg Aspen Initiative on Cities and Autonomous Vehicles is another example of convening cities to create policies ahead of new technology. In addition to tracking dozens of cities' efforts to pilot AVs and publishing a primer on how to tame them, the initiative also hosted officials from ten cities to draft shared goals. "You cannot negotiate with [companies] city by city", said Paris deputy mayor Jean Louis Missika. "You have to say the rules of the game are the same in Singapore and Paris."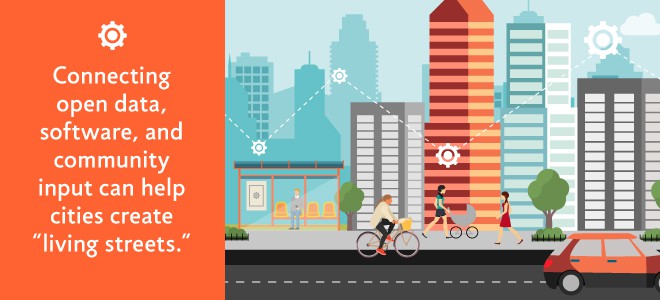 Building a Technology Platform
Once those rules and objectives are in place, then and only then should cities invite private partners to provide the services and underlying technology of a transportation operating system. That's the animating impulse of Ford's mobility strategy — the creation of a single, open network comprised of everything from the roads and sidewalks to traffic lights, mass transit, personal vehicles, and even signs and lane markers. Once these are knit together by vehicle-to-vehicle (V2V) and vehicle-to-infrastructure (V2I) communication protocols and hosted in the cloud, then services can sit atop them, creating a supple mesh.
"The city's transportation grid will mutate around the car's needs," Hackett promised on stage, and that strategy was evident at CES and in the following weeks. In addition to showcasing future uses for AVs, Ford highlighted its Cellular Vehicle to Everything (CV2X) chip developed with Qualcomm to underpin this vision, and explored how its transportation cloud might choreograph a multi-modal trip through a city. (Shortly thereafter, the company acquired both Autonomic, which builds industrial-strength cloud software for mobility companies, and Transloc, which offers microtransit planning and operations tools for cities.)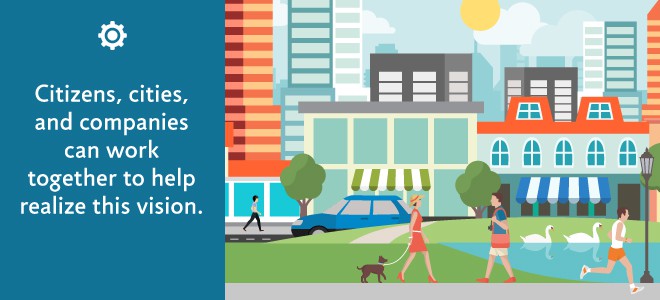 With this platform in place, the real opportunity for cities isn't to squeeze more cars into fewer lanes or replace parking revenue with congestion pricing fees. ("We can't just think of cities like we thought of computers, where we're programming them to maximize efficiency," Hackett said.) It's understanding where the most dangerous intersections are; where parklets of green space are needed, and how to rescue residents living in food, transit and healthcare deserts. It's about improving cities one street at a time.
"Henry Ford got a lot right," Hackett said. "If he were here, he'd want to avoid making the mistakes of the Industrial Age, when the freedom of movement came at the expense of community and our connection to each other." By learning from the past and building technology in service of humanity, city streets can have a second chance at life.