From the opioid epidemic to rising sea levels to traffic gridlock, America's cities are facing serious systemic challenges with increasingly high stakes. City agencies are charged with creating physical infrastructure—roads, bridges, buildings, water supplies, grids—that enable its citizens to lead safe, productive lives. Today's smart cities are adding digital infrastructure to those obligations, recognizing that transparency through open data and constituent input are invaluable resources for analyzing and solving long- and short-term problems. "Open data should be made available along with the ability for users to pursue self-service methods to derive insights," says Satish Sankaran, an experienced product manager at Esri. "It's all about good policy and governance to build trust with communities and allow them to experiment and come to their own conclusions."
Using Smart Mapping and Crowd-Sourcing Can Help Save Lives
Open data is enabling recovery and saving lives in areas hardest hit by opioid addiction. In Northern Kentucky, an area near Cincinnati composed of three counties, one person died every 40 hours from an opioid overdose in 2015. Ned Kalapasev, geographic information system (GIS) manager of the Northern Kentucky Health Department told StateTech that beyond the mortality statistic, opioid use "affects everything from rates of blood-borne disease, hospitalizations, fire, EMS, and police response…it impacts all aspects of people and government." The first step for Kalapasev was to participate in the Opioid Mapping Initiative. Using GIS software, his team overlaid data related to the local epidemic on an Esri Story Map, which combines mapping with text, images, and multimedia content. Using police, hospitalization, and mortality reports, along with instances of revival using the drug Naloxone and information about treatment, the team created an accessible snapshot of the crisis.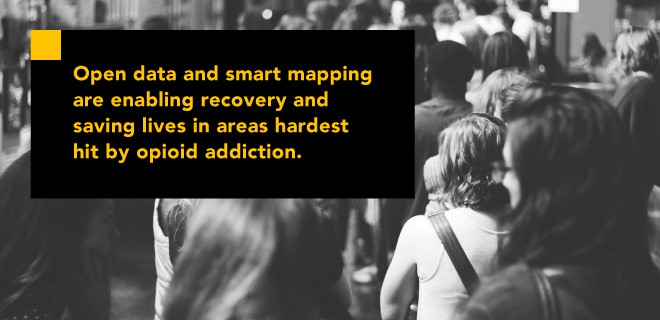 Seeing the data on a map has enabled the local government to track mortality and overdose trends by neighborhood, giving them the decision support to increase police and EMS responses accordingly. County residents can see how the epidemic is impacting their community, and substance users can locate public services, including needles, treatment, and access to Naloxone. Other participants in the Opioid Mapping Initiative provide innovative crowdsourced services. In Michigan, the Oakland County Prescription Drug Abuse Partnership has created the Complementary and Alternative Health Resources map to collect information about activities and therapies that can assist with pain relief as an alternative to opioids. While there's no single solution to America's opioid epidemic, these forward-thinking local governments are tackling the issue using location intelligence, open data, and constituent engagement.
Enlisting Citizens to Tackle Climate Change to Save Lives and Property
Constituent engagement was at the centerpiece of a community effort in coastal Virginia when more than 500 "citizens scientists" used a mobile mapping app to research the impact of climate change on sea-level rise. The volunteers were enlisted to participate in a "Catch the King" event that would measure the King Tide, the highest astronomical tide of the year. The Virginian-Pilot news organization and other media partners convened the effort, which resulted in 1,100 photographs and 53,000 data points in a few hours on November 5, 2017. Scientists from non-profits and universities are analyzing the data to improve models that predict tidal flooding. "This information will be useful for everyone from emergency responders to potential home buyers as they assess the risk of rising seas," says Jon Derek Loftis, a research scientist at William & Mary's Virginia Institute of Marine Science. Loftis builds sea level models and maps of tidal flooding for the Commonwealth Center for Recurrent Flooding Resiliency, and he also created the app used by volunteers as well as the story map.
"Catch the King" was the world's largest crowdsourcing tidal measurement event, and provided a baseline for analyzing future sea-level rise trends while raising awareness of the issue among citizens. The weather was calm that day, meaning flooding was less pronounced than usual, but Loftis is eager to repeat the event under tougher weather conditions. The findings will indicate where local governments should invest in infrastructure and, more immediately, notify residents when to sandbag their homes. "This information will be useful for everyone from emergency responders to potential home buyers as they assess the risk of rising seas," Loftis says.
Transparent Data Gives Citizens Actionable Intelligence
Known as a business hub with a vibrant cultural scene, Charlotte, NC is one of the fastest-growing cities in the U.S. To harness this momentum in 2013, Charlotte's then city manager Ron Carlee cited community engagement that centers on open data as a priority. The city founded Open Charlotte, an initiative that addresses the data needs of the city's departments and businesses, supported by the Code for Charlotte Brigade, a group of citizens, designers, and developers who use technology to help solve civic and social problems. With input from Esri, the Charlotte Open Data Portal went live in December 2014 and included the launch of Citygram, an application to demonstrate the value of open data to the public.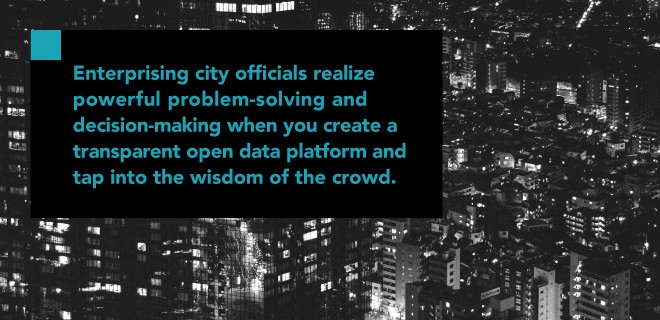 Because the majority of the city's open data has a spatial component (which is the case for most cities), location intelligence technology is often the best tool for open data analysis. The best location technology can even be used for non-spatial data analysis. Non-spatial data published on Charlotte's portal includes city staff salaries and fiscal budget data. And citizens do not need to have special training or technology skills to access data: Once at the portal, users can select their preferred format for the information—as a spreadsheet, API, or shapefile—from 40 data sets. Data about road closures gives citizens real-time insights that help them avoid gridlock situations–more than 37,000 residents viewed the map six months after launch. And as the city prioritizes sustainable initiatives, the Charlotte Green Tour provides a complete overview of progress made and suggestions for how residents can contribute. Open data helps governments gain the necessary trust to build consensus, while citizens gain greater insight into public policy decisions and how their tax dollars are spent.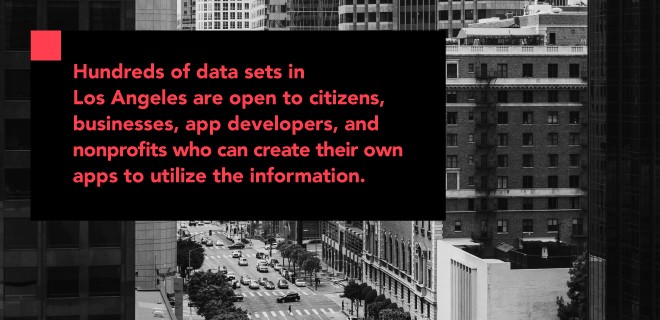 Ahead of the Curve: Mining Open Data to Accelerate Progress
Mayor Eric Garcetti of Los Angeles was the driving force behind the nation's first map-based open data and civic services portal called GeoHub. "Simply connecting the data housed in different city departments [enables us] to develop innovative, more efficient ways to serve people's needs," says Mayor Garcetti. The platform connects all of the city's departments and provides an easy-to-use tool for staff to collaborate and share data, internally and externally. Hundreds of data sets are also open to citizens, businesses, app developers, and nonprofits who can create their own apps to utilize the information. Innovations include Street Wize, which allows Angelenos to track current and upcoming permit and construction activity around the city so they can plan accordingly to avoid delays. Vision Zero uses a data-driven approach to reduce traffic-related injuries and deaths—with the goal of eliminating them altogether by 2025. The mayor and his team's ambitious blueprint includes soliciting citizen-sourced data in areas such as health and mental health care, safety, schools, and jobs. "We are sharing city data with the public to increase transparency, accountability, and customer service and to empower companies, individuals, and non-profit organizations with the ability to harness a vast array of useful information to improve life in our city," says Garcetti.
Enterprising city officials like Garcetti realize the possibilities are endless when you create a transparent open data platform and tap into the wisdom of the crowd. "The data already exists and so does the technology within many city organizations," says Esri's Sankaran. "GIS software vendors are making it easier for city leaders to not only buy into the open data vision, but to guide them along. And, perhaps most importantly, this data democratization allows them to receive feedback from citizens." By implementing these strategies now, cities can position themselves for a smarter future.