An open-source, animated map features 249 global mass transit networks.
A German university student has developed a fun new tool for visualizing public transit in a more system-oriented way.
Transit Visualization Client, or TRAVIC, takes public data from 249 transportation networks, across five continents, and puts them onto one, animated map. The only caveat is that some data point movements correspond to schedules, not real-time realities, so think of it as a quasi-utopia of uninterrupted transit. Here's a shot of a Washington, D.C. Red Line train making its way toward Metro Center earlier this week.
Aside from offering a broad look at the movements of global transit networks, TRAVIC offers a unique opportunity to analyze how these systems work. Take Melbourne for example: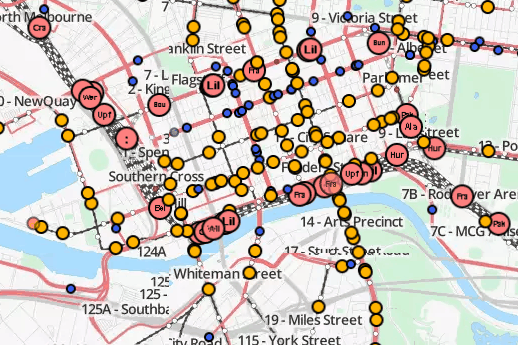 This is the city's downtown CBD during morning rush hour. The red dots represent train cars, the yellow are trams, and blue are buses. You'll notice how ubiquitous trams are. That's because Melbourne boasts the largest urban tram network in the world. More, the map showcases how trains are a peripheral means of getting around Melbourne's highly pedestrian City Square neighborhood. Liam Mannix, writing about the map for The Age, a local newspaper, explains how the three transit methods operate co-dependently.
Trains run quickly on huge, gently-curving routes. Trams chug along in huge numbers. Buses seem to scurry through the city's backstreets, reaching places heavy rail never can.
North Melbourne, according to Mannix, serves as a major transfer station for the city. Below you can see how buses and trains intersect at the Footscray station.